Isola di Capraia
Distance: PUNTA ALA 42 nm ELBA 21 nm BASTIA 30 nm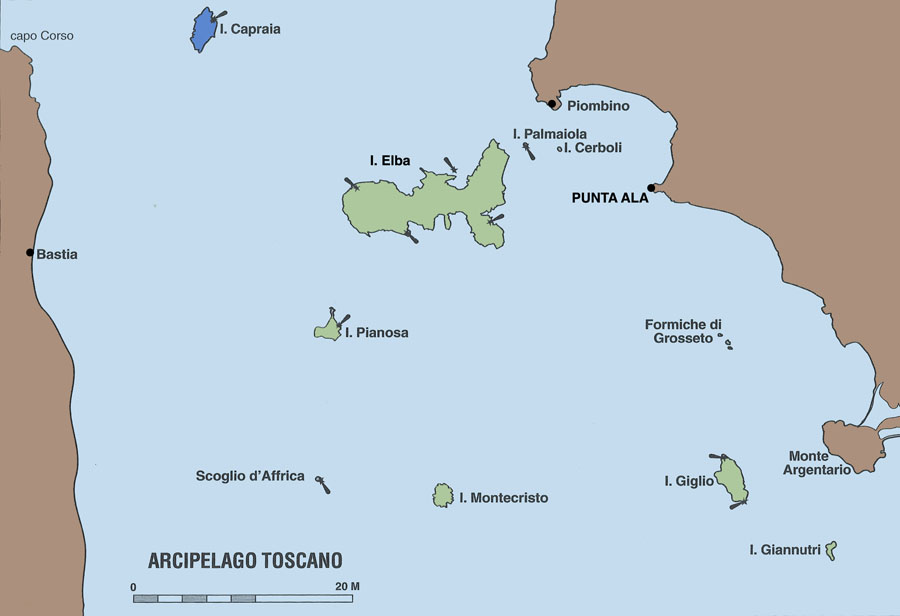 Capraia is the least touristic island of the archipelago and is the one that has retained most of its original appearance. It has a well-equipped port that has been upgraded recently to improve the docking of the ferry that connects it with Livorno. West of the island is a protected area which is strictly forbidden to vessels. On the island there is only one beach and despite terrible winter storms, summer here is beautifully peaceful. Daily, a service of large rafts drops off lots of tourists. Sailing west on the coast running south is a series of large and small bays, often fringed by rocky outcrops. The intensely coloured, invitingly crystal clear water often leads to many swimming stops for sailors!
Definitely the most well-known and impressive beauty spot and is the Red Bay (Cala Rossa). Here, volcanic formations have created a stunning effect of white stone next to wine red. Zenobito, further into the bay, is well protected from the wind.
The village of Capraia overlooking the port is connected to the top of the island by the only road there, a little over one kilometer long. A shuttle service runs between the port and the village. The interior of the island is spread in an almost vertical mountain where numerous hiking trails allow you to trek for a whole day. From the highest part of the island you can take in wonderful 360 degree views of Corsica, the Elbe and on the Tyrrhenian coast.